Zipline Brewing Co. With them since 2014.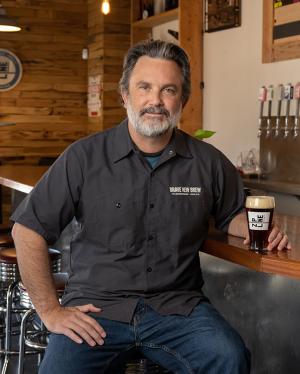 More Than Just a Bank
When Tom Wilmoth was ready to begin Zipline Brewing Co., NBC was the only bank he trusted to help him start his small business. That's because we're more than just a bank, we're also your advocate, a mentor and a business partner. And we've bottled up everything small businesses need: modern banking services, knowledgeable bankers with the experience to help, personalized guidance, and a friendly ear when you need it.
"NBC is the only bank we've worked with," says Wilmoth. "For us, they really operate more as a business partner than a commercial bank."
We're In the Neighborhood
As a locally owned, locally focused bank, you're never far from one of our branches. One of the things Wilmoth loves about NBC is that it's so close to his business, just a couple miles from the downtown Lincoln Zipline brewery.
"It's really handy to have that location there," says Wilmoth. "We have daily deposits and transactions, so being able to run over there and transact our business on the way is very convenient."
NBC also helps Wilmoth take care of his business expenses via direct billing on the website, where he pays vendors and utility bills. "I used to lick a lot of stamps," he said, laughing. Wilmoth added: "It's really nice to be able to log in and set all those up to be handled."
On Tap at NBC: A One-of-A-Kind Bank
When people ask him who he banks with, Wilmoth says he proudly recommends the bank that's been with him, for him, since 2014.
"I regularly recommend NBC for both commercial and personal service," Wilmoth says. "They're easy to work with, and they're very responsive."
For Wilmoth, NBC helped him make his small business dreams a reality, by investing the time and effort to build a strong relationship that continues to serve him well today. And while we'll leave the brewing to the professionals, Wilmoth says that if NBC was a beer:
"They'd probably be our Copper Alt, because they work well with everything and they're very accommodating at all levels."
We're proud to be a partner to small businesses like Zipline Brewing Co., and proud to be...With you, for you.