How to Act Fast in an Extremely Competitive Home Buying Market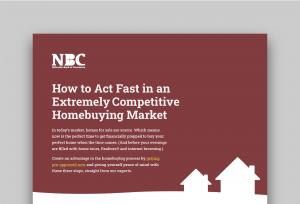 Today, the home buying market is tough—and with few houses available, it can feel like you're stuck waiting.
Did you know there are three steps you can take today to edge out the competition? Our financial experts created a FREE guide to help you get ahead when it comes time to buy your dream home.
What you'll learn from our FREE guide:
How to optimize your credit so you can secure the best home loan interest rate (potentially saving you tens of thousands of dollars)

What records you'll need to have ready when the day comes to apply for a home loan

How to customize a home buying strategy to your needs

And much more
Ready to get ahead?