Ehlers Animal Clinic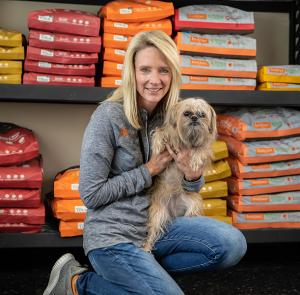 Trust is key with your veterinarian, just as it is with your bank. With each, you're entrusting something of great value – whether your beloved furry family members or your personal or business finances – to someone to safeguard. That's why when Megan Ehlers, DMV, owner of Ehlers Animal Clinic, chose us as the bank to use when launching into her first individual veterinary practice in 2012, we were honored.
"We chose to bank with NBC because we had a long-standing relationship with members of the bank's leadership," she explains. "We knew we could trust them."

Veterinarian Becomes Entrepreneur
Dr. Ehlers, as her animal patients know her, had been a practicing veterinarian in the community for 12 years and decided to strike out on her own. Opening a brand-new veterinary practice, like any small business, can be complex. Dr. Ehlers started by securing a business loan to launch.
"Starting a new business can be very stressful! But working with NBC made the financing and banking details one of the easiest parts," Ehlers shares. "The bank staff walked us through everything. It was a really comforting and supportive process."

Growing Business, Growing Trust
Today, Ehlers Animal Clinic continues to do its day-to-day business banking with NBC. Dr. Ehlers cites the convenience of online business banking as one reason they have stayed with us.
"Our first location was close to the branch, which was nice. But as we grew and relocated, we were further away. Much of what we do now, we do online, like bill paying. For deposits, we're happy to drive just a little further because of the relationships we've built with NBC. That was an easy decision," Ehlers points out.
The trusting relationships built over the past 8 years are mutual: not only does Ehlers bring their business to NBC, but members of NBC now bring their pets to Ehlers Animal Clinic!
We're excited to help small businesses like Ehlers Animal Clinic grow and thrive. Proud to be…With you, for you.