Kiihne Family & Kelly's Kids Daycare. With them since 2012.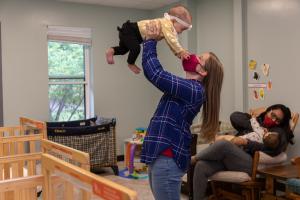 Big Bank Perks, Small Bank Service
When Kelly Kiihne and her husband chose to do their personal banking with NBC in 2012, it was the little things that impressed them, like monthly refunds on up to 10 ATM fees if they needed to grab cash at a non-NBC machine. As it turns out, eight years later that personal touch came in handy for Kelly's small business, too.
"At NBC, you have a bank with the modern banking options like online deposits and transfers, but it's such a different experience than you get at a big bank," says Kiihne. "NBC has a great, small-town feel. You talk to the same people when you visit the branch, and they know you. You can trust them, which is really comforting."
Going Above and Beyond
When Kiihne was facing the challenges thrown at all small business owners in 2020, she wasn't sure what she could do to stay afloat. Most of the children she and her team cared for each day were unable to come in. She contacted NBC for business banking advice even though she was not a business banking customer.
"They had no obligation to help me at all, and yet they went the extra mile for me," recalls Kiihne. "My landlord was a business customer at NBC, and they offered to postpone his mortgage payments. Then they helped me apply for the PPP loans. That allowed me to rehire those I had laid off, and we could serve our families again."

"I don't have any plans to change to a different bank. I use the mobile banking apps, and it's been very solid and reliable," adds Kiihne.
Our Customers = Our Neighbors
Helping the Kiihne family and Kelly's Kids Daycare is all part of being a locally owned, locally focused bank. "The fact that the people at NBC were so reassuring and supportive at a worrisome time – even though I wasn't a business customer – was wonderful," Kiihne shares.
"They helped me just because they wanted me to be able to hire back my employees and provide good daycare for kids whose parents could go back to work. It was so unexpected."
When challenging times come, helping our neighbors is just the way Nebraskans do it. It's the way we do it, too. Proud to be…With you, for you.