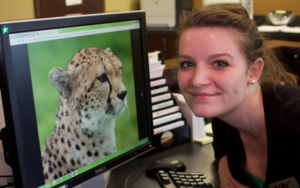 October 3, 2017
Universal banker Amanda Ferguson has a heart for big cats. Like South African cheetah big. Ferguson, a two-year employee, is closing in on a degree in fisheries and wildlife at the University of Nebraska-Lincoln.
She's volunteered with Project WILD to educate children about outdoors and nature, and she's helped at Lincoln Children's Zoo.
Ferguson said places such as Omaha's Henry Doorly Zoo help boost big cat population with scientific breeding that aids in maintaining a good genetic diversity, which is a problem with dwindling populations in the wild.
"One way or another, I'll be following and supporting these animals," she said.