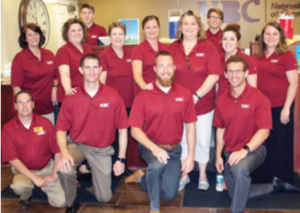 October 5, 2017
Nebraska Bank of Commerce held its annual open house June 9 for customers and neighbors at the 6000 Village Drive location. Burgers sizzled as NBC employees served guests and enjoyed the day.
"We're always looking for ways to show people that we're here for them," said Holly Hunt, loan operations specialist.

Thomas Pearson, credit analyst agreed.  "It's just a little way to give back," he said.
NBC is proud to be a community bank, where money deposited is invested within our community, and providing loans to local businesses and individuals. Formed by business leaders who are part of the community, decisions at NBC are made locally by a staff of Lincoln people to provide flexibility and responsiveness to customers.